Let's face it, it may be a bit overwhelming to consider that your entire graduate business school career hinges upon your admissions application. You already know that the admissions process is competitive, and now, because the GRE is accepted by hundreds of graduate business schools worldwide, you're faced with the critical choice of whether to take the GRE® General Test or the GMAT.
But before we talk about the differences between the two exams, remember that your score is only "part" of the overall application process. After all, one of the strongest standalone predictors of academic success is your undergraduate GPA. This is why many graduate school advisors will tell you, that if you have a strong application, it doesn't matter which exam you take. Your application will stand for itself in the following areas:
undergraduate GPA
standardized test scores like the GMAT or GRE® General Test
professional work experience that demonstrates your leadership capabilities
letters of recommendation that identify your personal character traits
Statement of Purpose that represents your career goals and demonstrates superior writing skills
interview (compelling face-to-face evidence that distinguishes you from others)
Although the GRE® General Test  and GMAT test results have weighted value in your application process, remember that these are performance tests. They are not tests that measure your potential to do well in graduate school. According to evidence-based research, other qualitative factors may influence graduate school acceptance (and can predict academic performance). These variables include: the ability to execute multiple tasks simultaneously; the ability to write and verbally communicate effectively; the capacity to make sound decisions; and the potential for effective leadership abilities.
While graduate schools accept the GRE® General Test  in lieu of the GMAT, some admission advisors counsel prospective students to take the GMAT. This is because some admission committee members may place greater value on the GMAT score. If, however, your advisor tells you that both the GRE and GMAT hold equal weight, it would be to your advantage to consider taking the test that is suitable to your personal and academic strengths. By focusing on your strengths, it may be an opportunity for you to increase the odds of acceptance to the school of your choice.
Now, let's take a closer look at the GRE® General Test  versus the GMAT. And remember to work through a few of the free online practice problems available on the official GRE®revised General Test  or GMAT websites before you make a decision.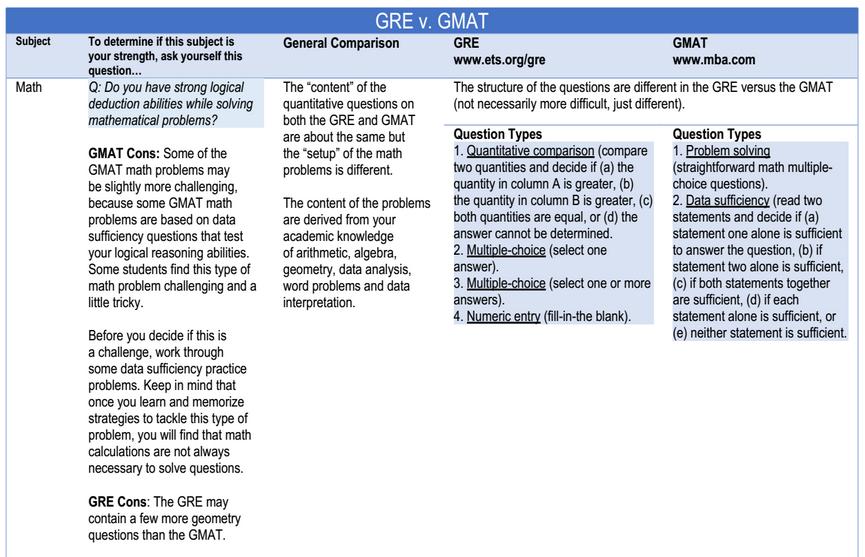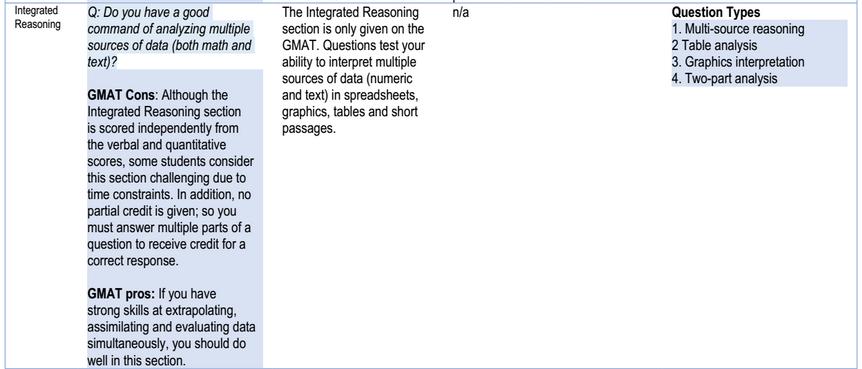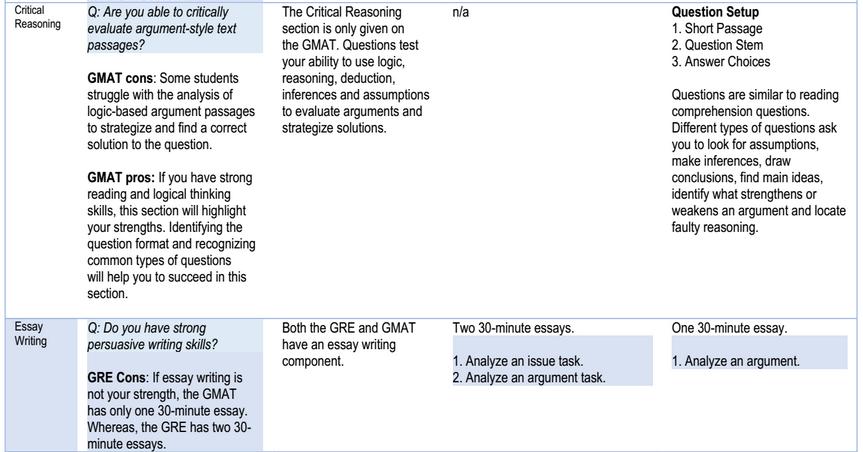 Information compiled by: BTPS Testing (800) 426-2769